Zaney1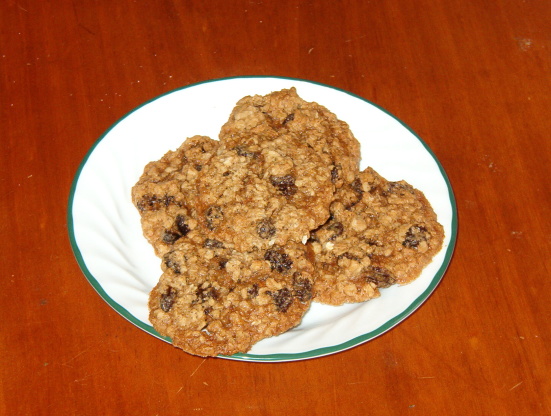 Tasty oatmeal cookie that has been made in our family since I was little. A little bit different oatmeal cookie in that it has cinnamon, cloves, nutmeg and ginger.

Top Review by sheri
Yummie! Youre right, this is the "ultimate" oatmeal cookie. Its chewy and incredible, plus my whole house smelled good. This would be the perfect autumn cookie b/c it tastes like pumkin bread meets oatmeal raisin cookie. Thanks!!
Preheat oven to 350°F.
In a small bowl, sift flour, salt, baking soda, cinnamon, cloves, nutmeg, and ginger; set aside.
In a large mixing bowl, cream butter, granulated sugar, brown sugar, egg, water and vanilla extract.
Add dry ingredients to the creamed mixture; mix well.
Stir in quick oats and raisins.
Drop by well rounded teaspoonfuls onto a lightly greased baking sheet.
Bake for 10 - 12 minutes.
Cool on tray for 1 minute and move to wire rack to complete cooling.