Kay D.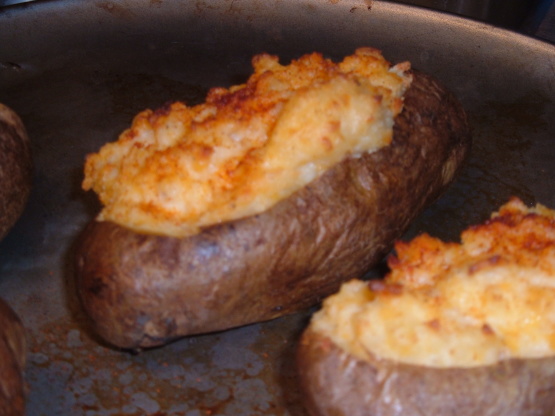 These are a bit time-consuming, but SOOOO worth it! Perfect with grilled chicken or steak!

We love these potatoes. I have been making them for years. I like to make a big batch of them and freeze them. Then they are ready to go any time I need them. thanks for posting
Preheat oven to 425 degrees.
Pierce potatoes with fork and rub with oil.
Place on baking sheet, and bake until tender, about 45 minutes.
Reduce heat to 350 degrees.
Remove potatoes from oven.
When cool enough to handle, horizontally cut the top skin off of each potato.
Scoop out flesh, leaving 1/4 inch shell.
Mash scooped out potato, then stir in cheddar cheese, sour cream, margarine, onion, and seasonings.
Stuff potato skins with mixture (don't be afraid to pile it in!).
Sprinkle with paprika.
Bake until hot, about 25 minutes.