Turkey Spaghetti Casserole
Lainey39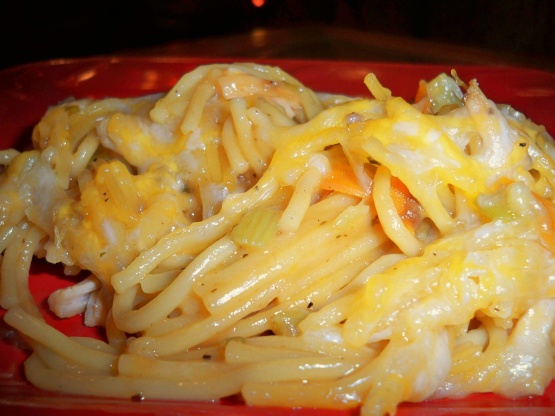 I got this from my MIL. I had it at her house one day after Thanksgiving, and I nearly slurped up the whole pan. That is something else considering I usually avoid her cooking as much as I can.

It was just ok. Very bland for us. Kids would probably like it.
Thanks for posting.
In a small pan, saute the vegetables in butter until tender.
In a large bowl, combine the broth, soup, salt and pepper.
In a 2-1/2-qt. baking dish coated with cooking spray,layer the turkey, spaghetti and vegetable mixture. Pour broth mixture over top.
Cover and bake at 350F for 70-80 minute or until spaghetti is tender,stirring once.
Uncover; sprinkle with cheese and paprika. Bake 5- 10 minutes longer or until cheese is melted.