Turkey and Pepper Moussaka
MA HIKER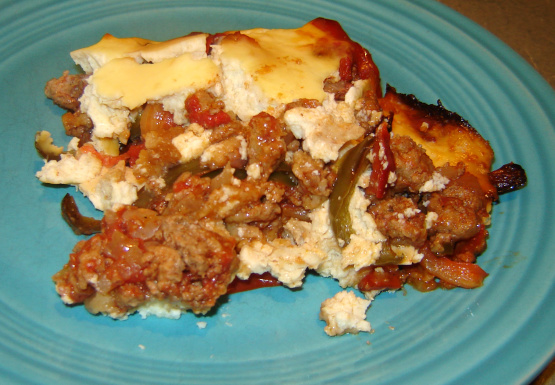 No lamb, no eggplant, I'm not sure what makes this moussaka, but it's really good!

I made this for my mother's birthday. It was a hit! The cinnamon gave it a nice kick. I will definitely make this dish again and again.
Heat oven to 375 degrees.
In a large skillet over medium-high heat, heat oil. Add pepper strips, saute 8 minutes. Remove to a medium size bowl.
In same skillet cook turkey and onions, stirring to break clumps until turkey is no longer pink. Drain excess liquid from skillet.
Drain tomatoes. Add tomatoes, tomato paste, cinnamon, salt and pepper to turkey in skillet, cook 3 minutes, remove from heat.
Sprinkle 1/3 cup bread crumbs over bottom of a 13x9inch baking dish. Arrange half the pepper strips over bottom. Layer with turkey mixture; top with remaining bread crumbs and pepper strips.
Stir together ricotta cheese, feta cheese and eggs until well blended. Spread mixture over entire casserole, cover with foil.
Bake, covered, until bubbly around edges, about 1 hour 10 minutes. Remove from oven, remove foil.
Turn on broiler. Broil casserole until topping is browned, about 3 minutes. Let stand 10 minutes before serving.