PaulaG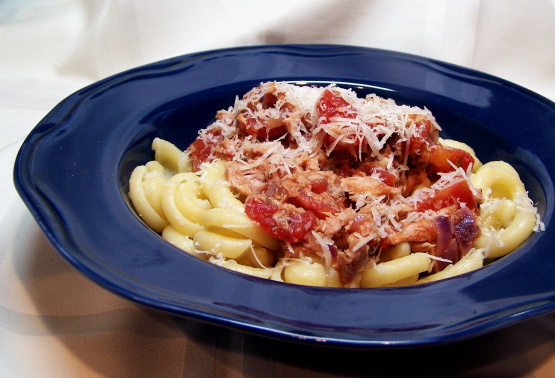 This is an emergency 'quickie' meal in my home. When time is short and I want to get something nutritious and tasty on the table fast, this is the meal I inevitably turn to as it is made with store-cupboard staples and everyone loves it.

Really easy comfort food - I was looking for something with minimal work and using the last of my stores until I go grocery shopping again. Easy to make, very tasty - no extra shopping to do because you can find almost all the ingredients in your pantry.
1

(9 1/4 ounce) can tuna, drained

1

(1 lb) canchopped tomato with juice

2

tablespoons olive oil

1

small onion, chopped

2

garlic cloves, minced

2

tablespoons fresh basil, minced (1 1/2 tsps) or 2 tablespoons dried basil (1 1/2 tsps)
3⁄4 lb of your favourite pasta, cooked al dente and tossed with 1 tblsp butter (we like to eat this sauce with pasta 'curls' so the little bits of tuna can get caught in the curls)
grated parmesan cheese, for the table
Heat the olive oil in a small saucepan and add the onion; saute onion until it is translucent, 2-3 minutes, then add tomatoes and garlic; season to taste with salt, pepper and red-pepper flakes and boil over medium heat for 10-12 minutes until thickened somewhat; add basil and simmer 2 more minutes; add tuna, turn off heat and allow to 'sit' (flavours will blend) for 5 minutes.
This makes a very thick, flavourful sauce (you can thin with a little boiling water or some of the pasta cooking water if it's too thick for your liking).
Distribute pasta amongst 4 plates and top with sauce; pass grated parmesan cheese at the table or, alternatively, toss pasta and sauce together, then serve, passing grated cheese.
Note: If you don't want your sauce to be as 'chunky', you can puree the tomatoes before using.