Nif_H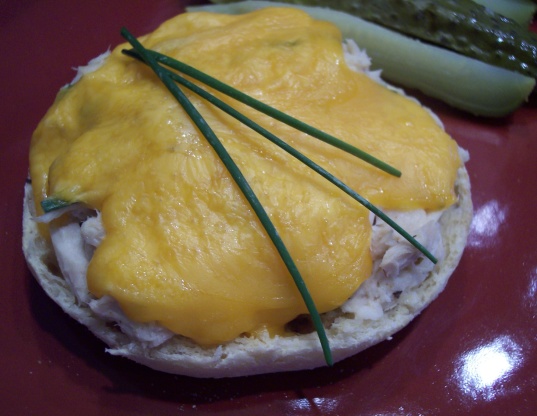 This is a very quick and tasty way to turn simple can of tuna fish into a warm meal for dinner, lunch, or snack. I like to have a kosher pickle (or Claussen pickle) to crunch on with these tuna melts. As always, if you want to see a picture of this dish, please check out: http://suburbangrandma.com/recipes/tuna-melts-recipe/

Top Review by Nif_H
An old favourite of mine! The ingredients were the perfect amount for this recipe. I would typically use more mayo, but it didn't really need it! I used fresh chives for the onions and wasn't sure what to do with the pickles, so I just served them on the side! I forgot the tomato (oops!) and used cheddar for the cheese. Made for my adopted chef for Fall PAC 2009. Thanks Grandma! :)
In a medium bowl, mix tuna, mayonnaise, celery, onions, and pepper.
Toast the English Muffins.
Divide the tuna salad into four equal portions (about 2 Tbs. each).
Spread each muffin half with one portion of the tuna salad.
Cover with sliced onion, sliced tomato, and top it off with a slice of American cheese.
Place the tuna melts in a microwave and melt the cheese, or place it in an oven proof dish and melt them in the oven.