Parsley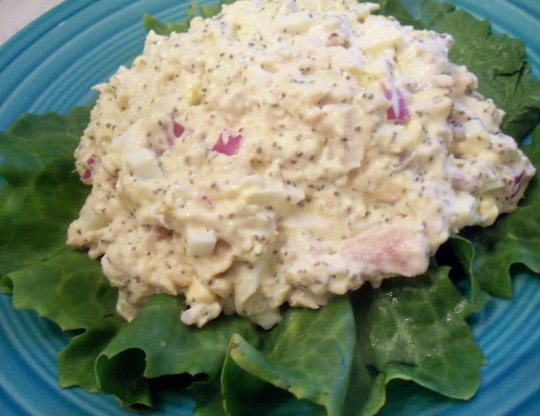 This is the recipe I use for my family and its always a hit. I use an equal amount of finely chopped hard boiled egg added to a can of tuna (I prefer the albacore tuna). For those who don't care for a strongish fish flavor in their tuna salad, this'll do it for you. It truely is awesome. Enjoy!

I prefer to use green onion including a bit of the green part for color. It's milder than red onion. Personally, I don't add mustard at all. Albacore tuna has such a mild taste I think mustard overwhelms the flavor of the tuna. And always Hellman's mayonnaise. I rarely add celery because it "weeps" into the tuna salad especially if you have any left-over.
Drain tuna and place in a small mixing bowl.
Finely chop boiled eggs and add to tuna.
Finely chop red onion (or onion of your choice) and add to tuna and egg.
Using a fork or masher, combine these ingredients well.
Add celery seed or celery salt.
Add Mayo (or Miracle Whip).
Add mustard.
Mix everything well. Go easy on the seasoning and dressing. You can always add more to suit your taste.