Food.com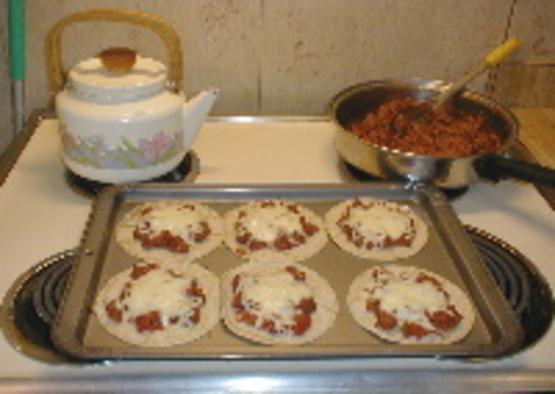 This recipe makes enough for your kids party, sleepover, or scout meeting. It's easily halved for family suppers.

I made these last night and both my son and I enjoyed them. I really don't like the thought of "rating" someone's recipe so I didn't use the star scale, but I would say these are a little above average. I used ground turkey instead of beef and doubled the amount of meat called for. It made plenty of pizzas- we ate three each and still had a plate full left over to eat later. (I halved the recipe). The meat mixture was dee-lish. The corn tortillas weren't quite as crunchy as I'd have liked, except around the edges. The only thing I'd do differently would be to add about 1/4 cup of corn in the meat mixture, and some sour cream on top. But I'd make them again.
Saute beef onion and green pepper until beef is done.
Drain fat.
In a bowl, mix the tomato paste and water, stir well, add salsa.
Stir into the meat.
Add tomatoes, olives, and seasoning packet.
Stir well.
Add remaining sauce ingredients.
Put tortillas on baking sheets.
Spread 1/4 cup filling in center of each tortilla.
Add 1/4 cup cheese.
Bake at 375* for 6-8 minutes, until cheese is melted.