Karamia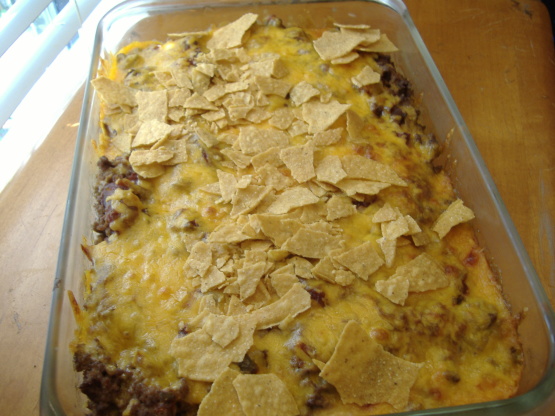 My mother-in-law made this and I just had to get the recipe. Tastes like tacos without taco sauce or seasoning. And also with out the mess. :o) Serve with a salad if desired.

This recipe was in a 2007 Taste of Homes mag submitted by Kim Osburn, and it is also on all recipes.com since 2007. I was looking for different versions of this but all the recipes are exactly the same. LOL :) It's good but drain the grease off the beef to help keep the bottom layer of chips form getting soggy. I also add diced onions to the meat.
In a skillet, cook ground beef, until no longer pink.
Stir in soup.
Sprinkle 1 1/2 cups of tortilla chips in a greased shallow 2 1/2 quart baking dish Top with beef mixture.
Layer salsa on top of beef.
Layer cheese on top of salsa.
Bake uncovered at 350 degrees for 25- 30 minutes or until bubbly.
Sprinkle with remaining chips and bake 3 minutes longer or until chips are lightly toasted.