Tortellini in mushroom sauce
ImPat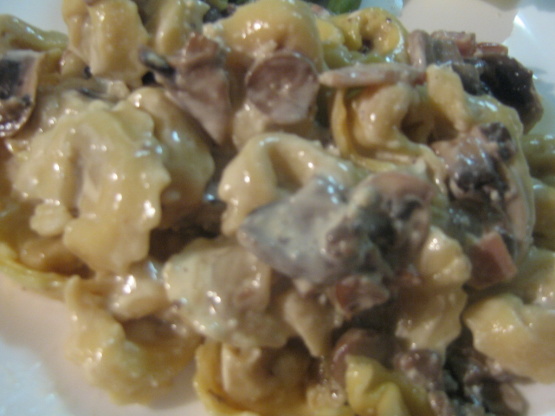 Easy to prepare, kids also love it.

Top Review by ImPat
Firstly I scaled this to 6 serves as the pack of tortellini I had was over 600g and recommended for 4 and still adjusted ingredient amounts then to suit what I had on hand, using 550g large baby cap mushrooms [sliced], 3 heaped teaspoons minced garlic and 500ml liquid (whipping) cream and added 4 rashers of bacon [diced - fat and rind removed], with the mushrooms when cooking. I couldn't bring myself to process (I assume blend) the mushroom mix as I felt it would have been soupy and not to our taste, so I slowly reduced the cream to a good thickness and then added the mix to the cooked tortellini and put in a warm (140C fan forced) for 15 minutes to let flavours meld and then served with steamed vegetables. My apologies to you JuanCar for not reading your recipe more closely before tagging and thank you for posting.
Heat the olive oil in a frying-pan to medium heat.
Add the garlic and sautee for 1 minute or until gold-brown.
Add the mushroom and leave at medium fire for 20 minutes.
Add salt and pepper to taste.
Reserve 1/4 of the mixture and process the rest along with the cream.
If it gets too thick, add some milk.
While the mushrooms are being cooked, boil water with a drop of olive oil and salt.
Boil tortellini according to package directions.
Dry the tortellini and add butter.
Just before serve, heat the sauce, mix with the tortellini, and add some of the reserved mushrooms on top.