Tortellini and Spinach Bake
flower7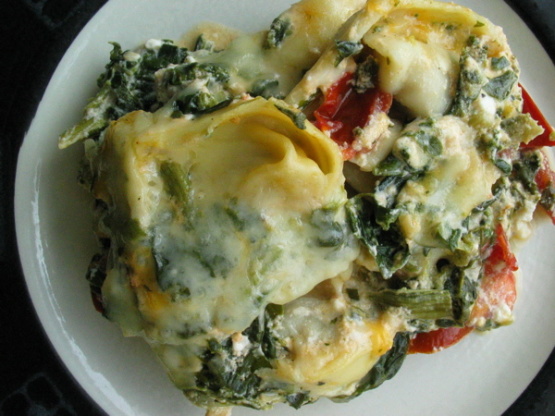 I've got this recipe of my sister-in-law. I just love the combination of pasta, spinach cheese and tomatoes. Served with crusty bread and a fresh salad (plus a few bottles of red wine), it's perfect if you have a few friends round for dinner and don't want anything too formal!

This was a really lovely, albeit slightly indulgent, treat! I used a 19 oz bag of tortellini, canned tomatoes, one 10 oz pack of spinach (more than enough IMHO), fresh mozzarella and grated parmesan for the "cheese", reduced fat sour cream, and milk for the single cream. Oh, and I realized at the last minute that I had purchased sundried tomato and basil flavored feta, and it was delicious in this! I stirred everything all together and baked it that way, and I think it worked out just fine. Thanks for posting! Made for Healthy Choices ABC tag.
Cook the tortellini in salted water for about 3-4 minutes, drain and put in a big oven proof dish.
Add the tomatoes.
Defrost the spinach, squeeze out most of the excess water and add the garlic.
Season with salt and pepper to taste.
Add to the pasta and tomatoes, mix well.
Top with feta cheese.
In a bowl mix the soured cream and single cream.
Season with salt and pepper to taste (don't hold back).
Add the grated cheese and pour over the dish, make sure it mixes with the rest of the ingredients and doesn't just sit on top.
Preheat the oven (200°C, 400°F, Gas Mark 6) and bake for 20-30 minutes.