Tomatoes With Lemon Thyme
Ms B.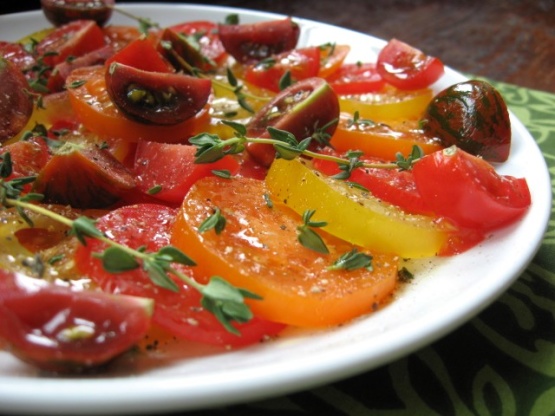 This is so simple that it is almost an embarrassment to post as a recipe. I snagged the idea from the August 2007 Martha Stewart Living, and loved the combination of the herb and the fresh tomatoes. She suggests that placing this salad in the sun for 20 minutes before serving will help the individual flavors meld. That is one thing that you wouldn't want to do with potato salad. LOL (Cook time is the time for flavors to meld.)

I made this for a party I had last summer (sorry for the late review) and it was a hit. Looks like I'm going to have a great crop of heirlooms this year. I can't wait to make this again. Not only was it delicious, it was really pretty on the table. Black krims, green zebra and yellow tomatoes are especially lovely. Thanks for sharing this recipe
Thinly slice tomatoes (if using small tomatoes, halve or quarter them), and arrange on a platter.
Season with salt and pepper.
Drizzle with olive oil.
Sprinkle with lemon thyme leaves.
Lay lemon thyme sprigs over the top for garnish.
Let stand for at least 20 minutes prior to serving.