Debbwl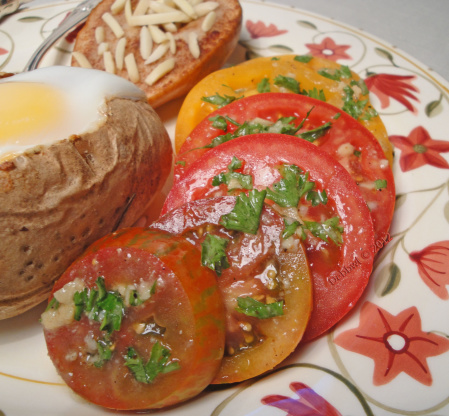 I believe there is a NYC restaurant "Lutece", but this is from Taste of Oregon and is our favorite way to serve fresh tomatoes. Remember, never refrigerate your tomatoes. If you aren't going to use them right away, buy or pick them underripe and they'll ripen up in a couple of days, counter-top. Preparation time includes letting the tomatoes stand at room temperature for 20 minutes.

I have been fixing tomatoes this way for over 50 years. We think they are the best! A friend fixed them for a cooking school when we were both young and working as home economists. I've always used garlic powder, vegetable oil, and plain old hot dog mustard. Yummy! EH - Texas
Slice tomatoes into thick, even slices; set aside.
Combine remaining ingredients in small jar; shake well.
Layer tomatoes in shallow dish, covering each layer with dressing.
Cover lightly.
Let stand at room temperature at least 20 minute.
We enjoy them at room temperature for maximum tomato flavor, but the original directions say to chill and serve.