pammyowl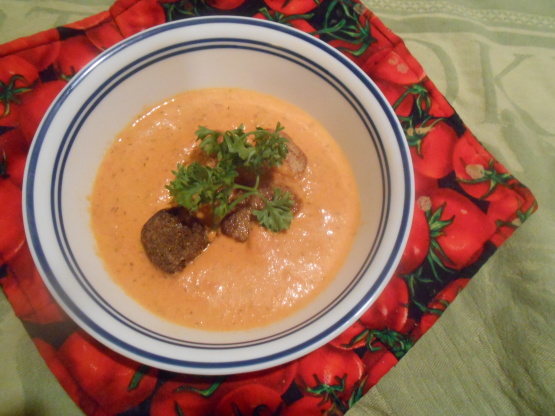 Sundays at my house are all about tomato soup and grilled cheese. This recipe is super simple and tomato soup doesn't get any better than this! I can only hope you enjoy it as much as my husband and brother and in law!

This is the 4B's Restaurant recipe except the 4B's version adds a tablespoon of chopped onion and blends it all right before adding cream. Very good. 4B's is always a favorite destination when in Montana. I make this up and can it without the cream for my own condensed soup.
Combine first 4 ingredients in pot. (I put the stewed tomatoes through a food processor first as we don't like the chunks).
Bring to a boil.
Reduce to a simmer and simmer 60 minutes.
Add baking soda.
Wait for fizz to go down.
Add whipping cream.
Wait until soup is desired temperature.
Serve (with grilled cheese of course).
Enjoy!