Prep 10 mins
Cook 35 mins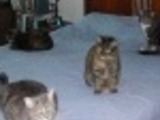 Found this in the paper today and wanted to post it for Zaar World Tour 2006. It sounded absolutely fantastic and I finally tried it myself. Was I right! Homemade tomato soup with 10x the taste! I served with crusty ciabatta bread for dipping. I added vegetable stock instead of regular water because a good stock is always the basis for the best soups. Lighten up on salt (if you use stock) and the cumin if you want. I only added 1 teaspoon cumin, 1 teaspoon salt, and no cayenne. I used 1 large bunch of cilantro. Did not taste overly of cilantro once I took the bunch out. Adapted from "Mediterranean Light" by Martha Rose Shulman. I classified this as either a Greek or Italian recipe:D
Directions
Heat oil in a large heavy pot over medium-high heat.
Add onion and cook, stirring, until softened. Add garlic, cumin and paprika and cook 1 minute, stirring.
Add tomatoes, water or vegetable stock, tomato paste, cilantro and 2 teaspoons salt. Bring to a simmer, cover and continue to simmer 30 minutes.
Turn off heat, remove and discard cilantro and blend with immersion blender (or food processer or regular blender) until smooth. Season to taste with salt, pepper, lime juice and cayenne.
Serve hot or cold, with a spoonful of yogurt in each bowl sprinkled with cilantro leaves.
Most Helpful
I own a copy of Mediterranean Light and have never noticed this recipe. Time to dust off that copy and pay more attention! This was delicious and another easy recipe to prepare. After bringing the ingredients to a simmer in Step #3, the mixture was transferred to a crock pot and cooked on LOW for about 3-3 1/2 hours. Used Spanish smoked paprika which meant I skipped the cayenne at the end. Roasting the tomatoes (fresh in this case) might bring out that much more flavor...Nancy's whole milk yogurt dolloped on top. Served with Recipe #346604. Reviewed for ZWT 6.

This is a great soup. I don;t know what I was thinking picking a soup when we are already set into summer. It was 100+ just the other day, anyway, I fixed yesterday and descided to eat cold. Superb! I am taking for lunch for the week. I used water because I didn't have the stock, next time I will make sure I have the stock.

This tomato soup is perfect! Way more flavor than the canned stuff. It's also great because I am trying to drop a few pounds right now and this is low calorie....a hearty filling soup that is good for you! I am going to make this all summer long (will never make canned again!). We had it hot this time with light sour cream instead of yogurt, but I think will try it cold next time for a change. Thank you Kumquat this is sooo good!!