Tomato and Mozzarella Pasta
KateL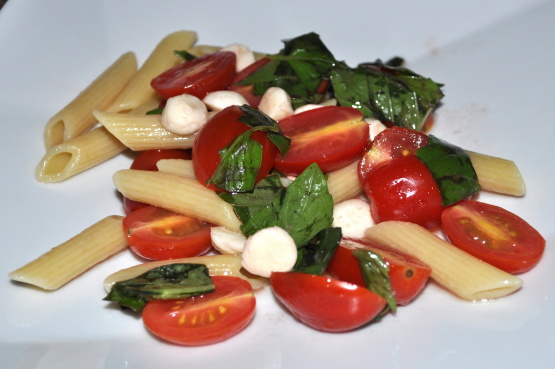 Recipe source: Prevention (September 2011)

Top Review by KateL
A winner at our house! DH forgave me for no tomato-ey sauce because the pasta was hot and our substituted shrimp (Recipe#91632) were also hot. I can't believe how fast this dinner came together, and half a recipe was just right for the 2 of us. We loved the taste sensation from mixing the 2 recipes; it worked very well for us! Made for Please Review My Recipe tag game.
In a serving bowl mix together first 5 ingredients (tomatoes - oil). Let stand 10 minutes.
Cook pasta according to package directions. Drain.
Add pasta and chicken to the tomato mixture, tossing.
Season with salt and pepper and top with basil, if desired.