Tomato and Mint Salad With Pomegranate Dressing
JustJanS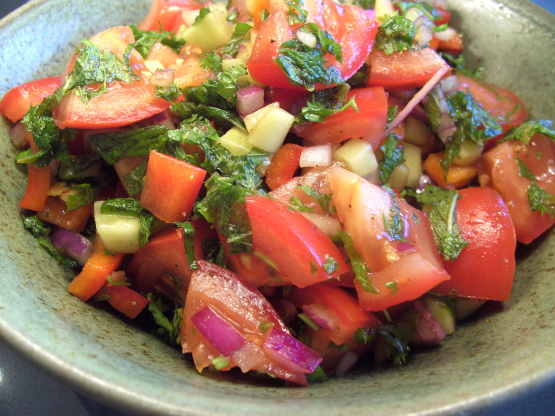 I was looking for a recipe for a wonderful salad with walnuts and pomegranate molasses dressing that we had in Turkey, and this was the closest I found. I was not too religious about removing seeds from the tomatoes though, and it was a little too watery, so next time I will be more careful. But the taste was good, very refreshing. You can also add some bulgur to it, if you want the salad to be a little heavier (in Turkey I had it both with and without bulgur).

I love pomegranate molasses and it really shone in this delicious recipe. I used red onion as it's all I had on hand and left out the walnuts to lower the fat content of the dish. I was happy to find a recipe to use a generous amount of my home grown parsley and mint. Thanks for posting-I'll be making this one again soon!
Combine first 8 ingredients. Whisk pomegranate molasses and oil in small bowl. Season with salt and pepper; toss.