Tomato and Avocado-Goat Cheese Crostini
Mulligan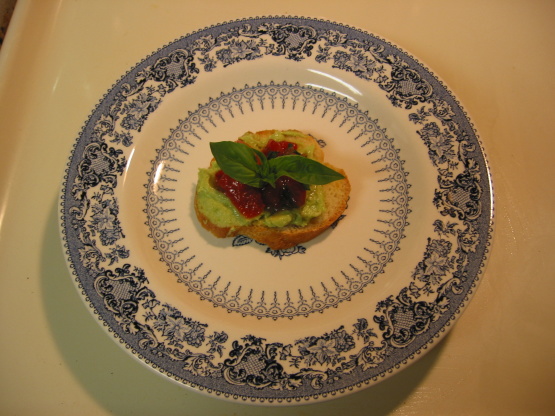 A easy, quick appetizer or serve with a salad! Adapted from tomato.org.

These were delicious! Everyone who tried these loved them! The type of tomatoes you use matters in this recipe as the flavor really stands out! You can also leave the avocado out if you want to and they will still be fantastic (though I did use them)! Thank you for sharing!
Pre-heat oven to 350 degrees.
Slice the bread into 1/4" thick diagonal slices. In a little bowl, combine garlic and olive oil. Brush bread slices lightly with garlic oil. Arrange on baking sheets in single layers. Bake crostini for 10-15 minutes, till golden brown and crisp. Remove from oven and let cool. These can be made ahead of time and stored in an airtight container. Be sure to let cool completely before storing.
In a bowl combine avocado, goat cheese and salt. Mix until smooth. (To make in advance, save avocado pit and bury in mixture to prevent browning.).
In a separate bowl, combine tomato, extra virgin olive oil, salt, pepper and basil.
To serve, spread each crostini with about 1 tablespoon of avocado mixture, then top with tomato-basil mixture. Garnish with small basil leaves if desired.