Toasted Walnut Salad With Mandarin Oranges and Gorgonzola Cheese
GaylaJ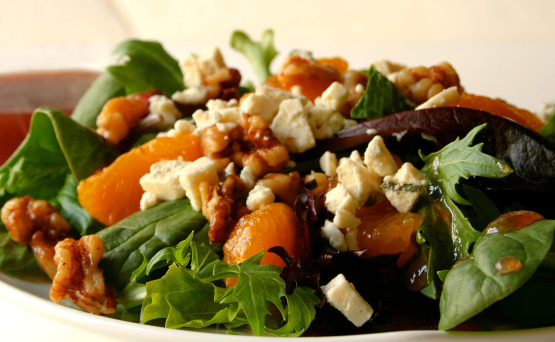 I had this salad at one of my favorite restaurants. I couldn't figure out the secret until I toasted the walnuts. This salad blends all the flavors together well, it is a great side to just about anything. Easy to put together and chill while you cook other things. If you don't have raspberry vinaigrette, try with Five Star House Salad Dressing.

Top Review by GaylaJ
This is a delicious salad. I've made it twice now--once with romaine, green-leaf and butter lettuces topped with Recipe #23478, and another time with baby spinach and baby spring mix topped with Recipe #176952. I usually toast nuts dry, either in a skillet or in the oven, and toasting the walnuts in butter was a nice touch. I love mandarin oranges, and I like that this salad has a lot of them. :) Both times I've made it, I was only making it to serve two, so I pretty well just eyeballed ingredient amounts. Great salad--thanks for posting!
Melt butter in a sauce pan.
Stir in walnut pieces and coat with butter.
Stir for 4 minutes and remove from pan and set aside.
Allow to cool to room temperature.
Toss greens, mandarin orange segments and crumbled cheese.
Toss with toasted walnuts and serve with raspberry vinaigrette salad dressing.