Thyme for French Healing Tea!
Calee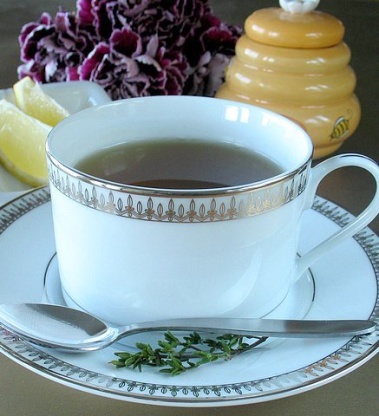 I hear that the French sip this tea for pure pleasure, but it is also soothingly healing for sore throats, upper respiratory troubles, and tummy bugs. This recipe calls for only one herbal ingredient, and you probably have it in your kitchen pantry. As you sip your drink, take a moment to think of cozy French farmhouses surrounded by fields just beginning to thaw after the long cold winter. Oh, for the simple life..... French Tart, I am thinking of you! Adapted from Cait Johnson, Assistant Producer, Care2 Healthy Living Channels.

This is a great tea for when you really need to cure a sore throat. Loved how easy and quick it was to prepare and how soothing it felt. I made it using dried herbs and the flavour was very strong, but thats ok. Ill definitely try it with fresh thyme as well, though just to see which one I like more.
THANK YOU SO MUCH for sharing, Sharon!
Made and reviewed for the NA/ME Veggie Forum Sund and Spice Event February 2013.
Place thyme in tea cup and pour over boiling water to cover. Cover cup and allow to steep for 10 minutes.
Strain and serve, with honey and/or lemon, if you so desire. Enjoy!