The World's Best B L T Sandwich
Sjstyles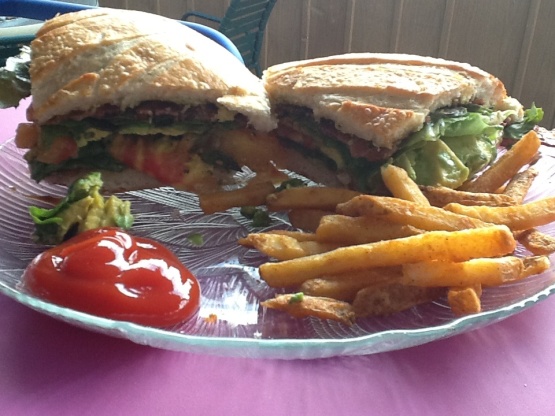 So simple, and yet so many subtle differences transform "good" to "world's best." the way a sandwich is assembled is key to how good it tastes. A gread sandwich is never dry (too bready). I pull out and discard all the soft white centers from baguettes, leaving two cano-shaped halves. This hollowed out bread is then packed full and doused with a generous splash of "house" dressing. Closing one of these sandwiches is like shutting an overpacked suitcase!

This was the best BLT I've ever had. I followed the recipe exactly except for the bread. I used Brioche buns. I wouldn't change a thing. Thank you for the recipe.
First make the house dressing, by combining all ingredients in a blender except for the olive oil.
With the motor running, very slowly drizzle in the olive oil and mix until it is fully combined.
Under a broiler or on a griddle, lightly toast the inside of the baguette.
Combine the mayonnaise and pesto.
Spread the pesto mayonnaise all over the inside of both halves of the baguette.
Lay the bacon along the length of the bottom half of the bread.
Lay the tomato slices on top of the bacon and drizzle with the house dressing.
Fill the remaining cavity with the lettuce leaves.
Close the sandwich tightly.
Cut on the diagonal with a sharp serrated knife into 2 to 4 pieces.
You may need toothpicks to keep the sandwiches together.