NIN4NIN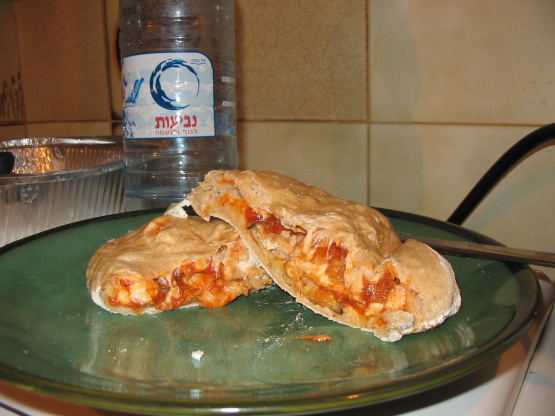 Meal in a pizza crust. I love to make a huge batch of these with 3-4 different fillings, freeze them, and pack a few in the husband's lunch. The pizza crust is one my mom has used for years, and the fillings come from playing around with my favorite things to eat.

Great recipe! My husband was in the field and I needed a meal I could serve him and the other guys that could be eaten with one hand. The crust on these calzones tastes great! Just a few helpful hints... use lots of flour when rolling so it doesn't stick. I cut back on the white flour that I put in the dough so that I could add more while I was rolling. I added some italian seasoning to the dough as well. Also, I only used water to seal the edges and then crimped with a fork. I used a sausage pizza type filling as well as pepperoni. Tasted great and husband was happy to have something other than sandwiches or pizza while planting! Can't wait to try other filling ideas! Thank you!
Dough: Mix together water, yeast, 4 cups wheat flour, salt, and oil.
Add white flour until you have a dough that follows the spoons around the bowl but still sticks to the sides of the bowl. Let dough rise to double (about an hour), punch down, and shape. I don't let mine rise again once I've shaped it, but it does some rising of its own as it cooks.
Fillings: Ooooh, just have fun!
Depending on the filling, top calzones for the last 5 minutes of baking with: egg wash, honey glaze, extra cheese.
Also, make extra liquid parts when you make the fillings and freeze along with the calzones for a dipping sauce.
Be sure to wrap with a paper towel when reheating in the microwave.
(reheating in toaster oven is preferable.).
Cook calzones at 300°F for 30 minutes.
These can be frozen before or after cooking. When cooking a raw, frozen calzone, cook for 50 minutes at 300°F.