The Ultimate Healthy Muffins
CoffeeB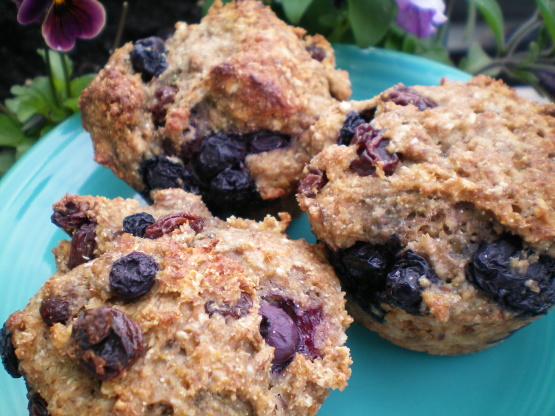 Almost zero fat and more fibre than you can handle in a week

Top Review by Jin O.
Just a reminder that when you have a recipe without oil, if you use muffin papers, you will probably get a bit more fiber than you bargained for when you TRY to peel the paper off! I don't mind, but if you're serving to others, it gets a bit harder to do a nice presentation. I also chopped up apple for the fruit, and they were wonderful.
SOAK: oats, 12 grain cereal and cornmeal in yoghurt and apple sauce (or prune puree) for 1/2 hour. Add brown sugar, egg and mix well.
MIX: flour, flax, baking powder, baking soda - Add to yoghurt mix. Combine just until moist. Batter should be fairly thick. Add a tablespoon or two more of flour if batter is runny.
FOLD: fold in berries (or fruit) dried cranberries (or rasins).
Grease muffin pan or use line with muffin cups.
Makes 12 muffins (or 6 super muffins!).
Bake at 350 F for 35-40 minutes or until toothpick inserted into muffin comes out clean.