The Ultimate Garlic Pesto Alfredo Sauce
SEvans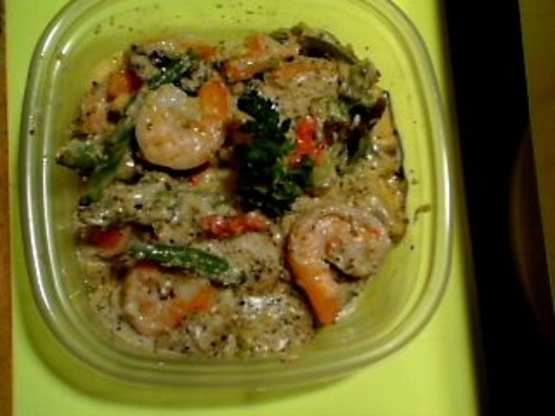 This sauce is the ultimate garlic, mushroom, basil pesto Alfredo sauce--to go on pasta, sea food, chicken or whatever you can imagine.
In a small sauce pan melt 1 tbsp butter.
Add minced onion, garlic and mushrooms.
Cook until nice and soft.
Add 1/2 cup white wine and simmer on low until it reduces by 3/4.
In a sauce pot or pan melt 2 1/2 tbsp butter.
Stir in the flour creating a roux.
With a whisk, mix in the milk a little at a time to avoid lumps--whisk hard and lots.
When the mixture is smooth, pour in the cream, mix in the basil pesto, salt, Worcestershire sauce, Tabasco sauce and mushroom onion garlic wine mixture.
Mix well--pepper to taste
Stir in the parmesan cheese, blending well; set aside.
This sauce can be made hours ahead of time, simply reheat on your cook top on low or microwave for 30 seconds.
Drizzle over your favorite meal. I have shown this sauce served over stir-fried vegetables and shrimp on pasta.