The Possible Impossible Broccoli and Cheese Pie
Redsie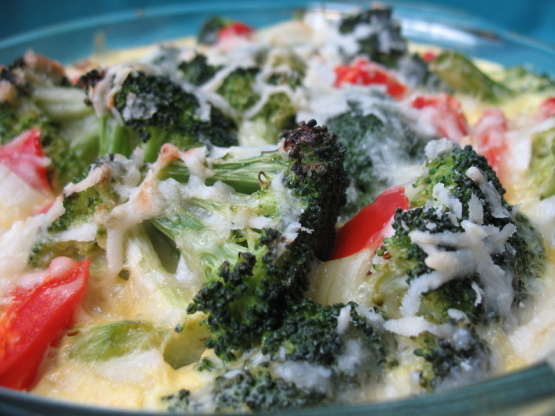 This is made without a crust, it is so yummy, and quite simple to prepare, a very nice main dish meal, served with a salad.
Set oven to 350 degrees.
Grease a 10-inch deep-dish pie plate.
Combine the broccoli, onion and 1/4 cup water in a saucepan; cover and cook over medium heat for 6 minutes, (don't overcook, cook only until just tender); drain thoroughly, dry VERY WELL with paper towels.
In a bowl, combine the next 9 ingredients (starting after the 1/4 cup water).
Mix in the broccoli/onion mixture; pour into a prepared 10-inch deep-dish pie plate.
Sprinkle with desired amount of Parmesan cheese.
Bake for about 25-30 minutes, or until set.
Let stand for 10 minutes before serving-- yummy!
Note: if desired, this may be baked in an 11' x 7" baking pan, instead of a pie plate.