The BEST EVER Fudge Brownies
Pixie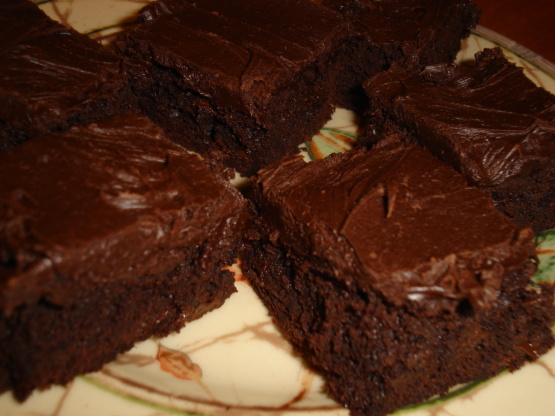 These brownies are so rich and fudgy and so simple to make. I got the recipe from a recipe group, and have never bought a mix again!

I don't have a sweet tooth, especially for chocolate, but after the birth of my third kid five years ago, I was served the most moist, delicious brownie while in the hospital. I spent a lot of time trying to find a replicate (I do know the hospital used all organic super healthy whatever, which I don't have time to figure out). This recipe I have been using for at least four years, and I and everyone I have passed it on to loves it. Less than five minutes to mix, and only one pan used. My kids love the uncooked batter as much as they love the cooked product. Thank you, Tracy!
In a medium saucepan, melt butter or margarine on low heat.
Remove from heat and in same pan, stir in sugar, eggs and vanilla, stir well.
Add in flour, cocoa, baking powder and salt.
stir in chips and nuts if desired.
Bake at 350 for approx.
25-30 mins, depending on your oven.
do not overbake.