Thai Vegan Fried Rice (Khao Phad Jay)
MsBindy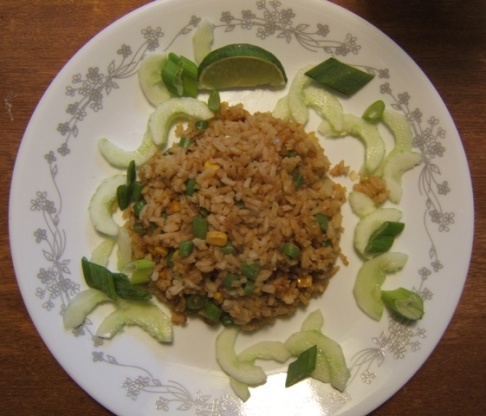 Satisfying fried rice with no eggs, no fish sauce, and no meat, but lots of Thai flavor from pepper, garlic, and a bit of curry paste. From Foolproof Thai Cooking, by Ken Hom. He says this is a typical dish of a Thai Buddhist festival in the autumn, which people celebrate by eating only vegetables for a week. This is spicy, and I say this as someone who eats spicy Thai and Mexican foods on a regular basis. My favorite part of this dish was the black pepper, but it did make it hot. If you do not like spicy, do not make this. If you like spicy but not very hot, you may want to reduce the amounts of black pepper and garlic quite a bit. Yes, it says three Tablespoons of garlic. Yes, that's about two small heads of garlic - not cloves, heads. And if you do like things very spicy (mmm), use the amounts directed and enjoy.

We added broccoli and peanuts. This came out great. Not too spicy but just enough kick to leave a little burning sensation in your mouth. Thanks for the recipe!
To start with uncooked rice, start with 2 cups raw rice, cook, spread out on a baking pan to cool, and then refrigerate at least 2 hours or overnight.
Prepare the garnishes: cut the scallions on a slight diagonal into 1-inch lengths, cut the cucumber into very thin slices, cut the lime into wedges; set aside.
Heat a wok or large frying pan over high heat and add the oil.
When the oil is very hot and slightly smoking, add the garlic, onion, and black pepper and stir-fry for 2 minutes.
Add the green beans and corn and continue to stir-fry for 3 minutes.
Add the cold cooked rice and stir-fry for 5 minutes.
Add the soy sauce and curry paste and stir-fry for 2 minutes.
Garnish with the scallions, cucumber, and lime, and serve hot.