diner524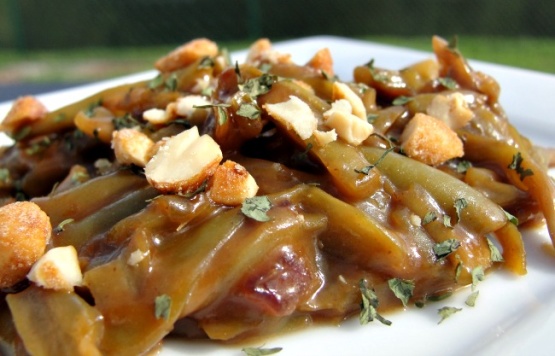 This recipe in from the Summer 2006 edition of Cooking for 2. I made a couple of adjustments to the recipe. We really enjoyed it served as a side with Lemon Chicken and Sesame Rice.
What a yummy way to enjoy green beans!! I made 1/2 of the recipe, as DH was out of town last night, and followed as written. I wasn't sure weather I would enjoy peanut butter with green beans, but with the other ingredients it was delicious. It was a nice salty flavor to the beans. Thanks for sharing a new delicious way to prepare green beans. Made for ZWT 9.
Combine the soy sauce, oyster sauce, peanut butter and crused red pepper in a small bowl; set aside.
Rinse the beans and place in a microwave safe dish, cover and cook until crisp tender; approximately 3 to 5 minutes depending on the wattage of your microwave.
Remove beans from microwave, rinse in cool water and allow to drain while preparing the sauce.
In a skillet or wok, heat the 1 teaspoon oil add the minced shallot and grated gingerroot.
Cook the shallot and ginger for 2 minutes and then add the soy sauce mixture; stirring until the peanut butter is melted and the sauce is smooth.
If using a natural peanut butter, it may be necessary to add a tablespoon or so of water to the pan to aid in making the sauce smooth and creamy.
Once the sauce is thoroughly combined, stir in beans and warm in sauce.
Prior to serving sprinkle with chopped cilantro and peanuts if desired.