Thai Red Curry With Vegetables
Kim127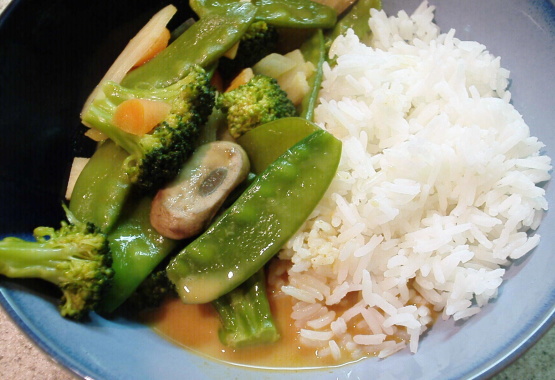 Compliments of Thai Kitchen! Adjust your curry if you don't like heat use less then 1 tablespoon and if you enjoy the heat go for 3-4 tablespoons.

This is one of my favorite "quick" dinners. It throws together so fast and is just delish! Like Kimke, I also use just one can of coconut milk. I also like to add a handful of fresh basil, the zest and juice of one lime, and a touch of garlic chili paste. Instead of adding veggies I usually throw in a bit of stir fried beef or chicken. A bit of info: this dish in Thailand (kaeng phed kai kap normai on)is often left as a "food gift" to the Buddhist monks during late summer (the time of Buddhist Lent). At that time the monks focus not on earthly things, but rather on meditation and teaching. Supporting the monks with food during this time is known as "making merit." This dish is a favorite offering as bamboo is in season and the orange of the curry is similiar in color to the monks robes. End of lesson. ;) Serve over jasmine rice with lime wedges. Very tastey stuff!!!
1

(14 ounce) canthai kitchen pure coconut milk

1 -4

tablespoon thai kitchen red curry paste

2 -3

tablespoons thai kitchen premium fish sauce

2

tablespoons brown sugar
1 1⁄2 cups assorted fresh vegetables, cut into 1 inch pieces (like cauliflower, red bell pepper,onions,eggplant, mushrooms, zucchini, peas, or your favorite combi)

1

(8 ounce) can bamboo shoots, rinsed and drained
In a 2 quart saucepan, bring the coconut milk, curry paste, fish sauce and brown sugar to a boil.
Add the vegetables and bamboo shoots, reduce the heat and simmer for 15 minute, or until the vegetables are tender.
Serve over steamed jasmine rice.