Thai Chicken Wings With Peanut Dipping Sauce
alligirl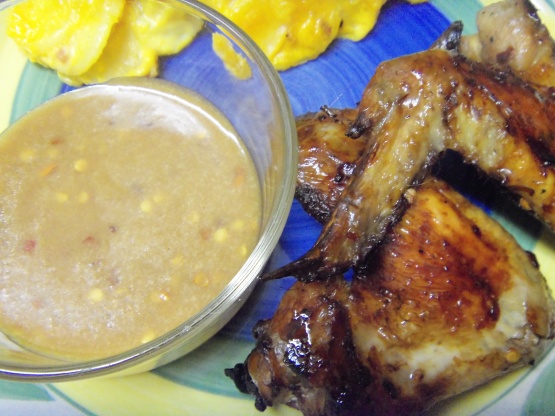 Marinated Chicken Wings with flavorful dipping sauce. Chicken is nicely seasoned, and combined with an exotic dipping sauce makes a great dinner, or a simple flavoring appetizer for the family or a small group. Great for a game, or a luncheon. Cooking time includes marinating time. Prep time included 8 hours of marinading

I think these could be more flavorful, and that if the wings were separated, they would be easier to eat and dip into the sauce. I followed the recipe, marinating for the required time, however didn't feel like the pomegranate flavor came through at all. The dipping sauce was tasty. Thanks for sharing your creation; good luck in RSC#18!
Combine minced garlic cloves, salt, pepper, rice wine vinegar, pomegranate juice, allspice, and red pepper flakes in a medium bowl, whisk to combine.
Place the chicken wings in a shallow bowl, or a resealable bag.
Pour the marinade over the wings, cover, or seal and chill for 8 hours or overnight.
After marinating time is over, drain the wings, and lightly pat dry.
Arrange wings skin side up on a greased broiler pan.
Sprinkle wings with salt, and pepper.
Broil wings 4 inches from main heat for 8-10 minutes, or until the wings are golden brown.
While the wings are broiling, combine the dipping sauce ingredients in a medium saucepan. Bring to a boil, and transfer the dipping sauce to a bowl.
Serve wings with dipping sauce.