Tex Mex Pineapple Pork Chops
teresas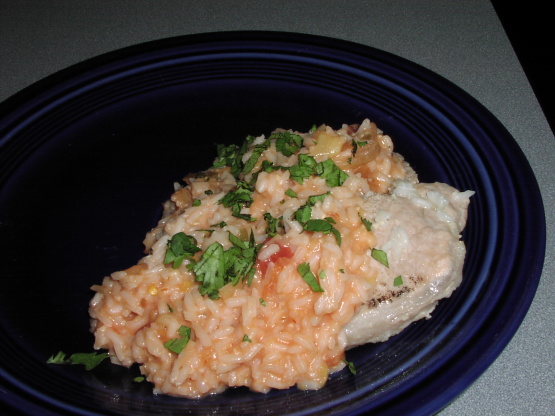 I make this because we love the taste of the rice but the chops are nice too. They come out tender and juicy.

I've used this recipe with pork chops and with chicken thighs. Both were great. With the chicken I did add a Tablespoon of dry taco seasoning to spice it up a little. Thanks Sandy
Heat oil in large nonstick skillet or Dutch oven over medium-high heat until hot. Add pork chops and cook 1 to 2 minutes or just until they begin to brown, turning once. Add garlic. Cook and stir 30 to 45 seconds.
Add water, pineapple and rice. Mix well and bring to a boil. Reduce heat to medium-low. Cover and simmer 20 minutes or until pork is no longer pink in center, rice is tender and liquid is absorbed.
To serve, arrange pork chops on serving platter.
Add salsa and sour cream to rice mixture and mix well. Cook 1 minute or until thoroughly heated.
Spoon rice mixture around pork chops. Sprinkle with cilantro. Serve with additional salsa or sour cream.