Teriyaki Chicken Drumsticks (Teriyaki)
Anonymous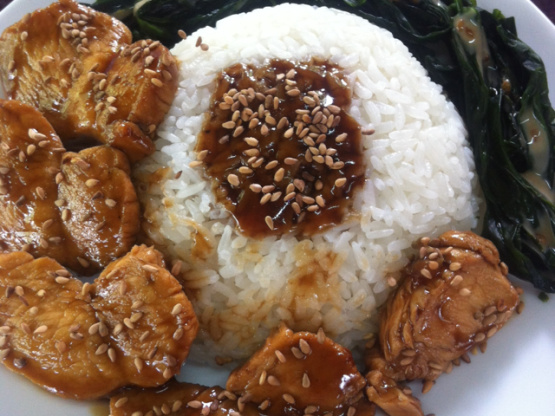 This is a family favorite and so simple. I first got the recipe from a friend who was a chef in a Japanese restaurant. When I married my husband he was using the same recipe he got from his Japanese ex-mother-in-law. It is so versatile we have used it for chicken breasts, wings, thighs, salmon, halibut, beef-kabobs - even veggies!

Top Review by mdumes
Very good, we added minced fresh ginger and one tsp of garlic, as well as used 3/4 cup of brown sugar and 3/4 cup of soy sauce (but added an extra 1/4 cup of water) based on the reviews here to reduce the saltiness and sweetness. It was perfect. The kids liked it, as did I! A great way to make chicken other than in the oven. Thanks!
Heat oil in a large saucepan over medium high heat.
Brown chicken pieces in hot oil.
While chicken is browning, mix together the soy sauce, sugar, water, and ginger.
Add the sauce to the chicken.
Bring to a boil and then reduce heat to medium low and let simmer, uncovered, for about 20 to 30 minutes or until chicken is done and sauce has thickened.
Turn chicken pieces occasionally during cooking process.
Serve over cooked rice.(We use short grain "sticky rice" prepared in a rice cooker.).
Serve excess sauce along side, people always seem to want more of it.
To reduce the calories, skinless chicken may be used.