Tequila Turkey Fettuccini
teresas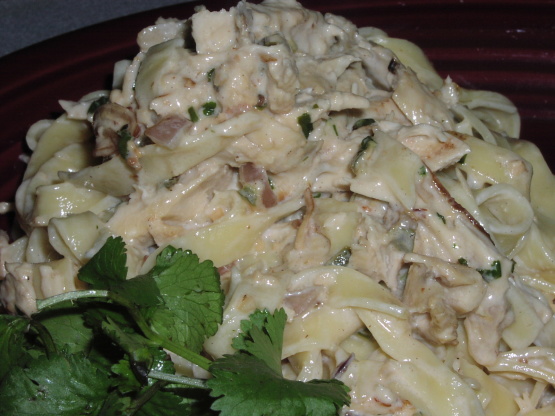 By Guy Fieri. I have not tried this but wanted to put it in my cookbook for safe keeping. It got great reviews on the Food Network. This only serves 1, but can easily be doubled.

We really enjoyed this dish! Great recipe for leftover turkey. This makes a lot so there is enough for at least I think 3 servings. Next time I plan to double maybe triple the jalapeno's and add some mushrooms to the dish. This is a keeper. Thanks Valerie for posting.
In saute pan with high heat, add olive oil, onions, jalapeno and saute until translucent.
Add garlic and continue to saute for 2 minutes.
Add turkey, lightly mix ingredients, careful not to break turkey up to much.
Deglaze pan with tequila, pouring around the edge of the saute pan.
Add cream, lemon juice and cilantro. Toss together, then add pasta, and toss ingredients while adding Parmesan cheese.
Nest pasta on plate, pour sauce over pasta. Lay sprigs of cilantro over top, sprinkle tomatoes on top, and crack pepper around the rim of the plate.