awalde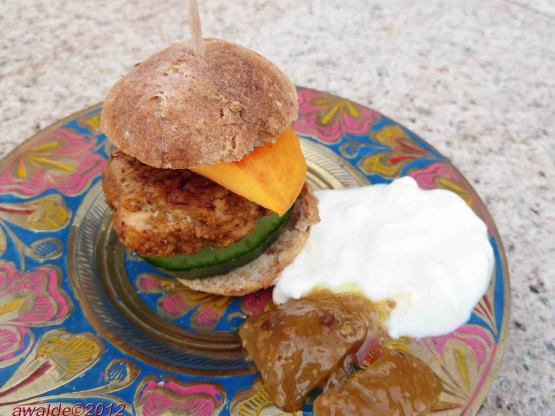 I came across this on the Foodnetwork.ca (.ca is the Canadian version, while fooodnetwork.com is the American version). It does call for yogurt or creamy dressing, but as some one who keeps Kosher I would most likely use soya or pareve yogurt or dressing (meaning it's not made with milk or other dairy products).

Top Review by awalde
I prepared small tandori burgers (1 pound chicken = 16 mini burgers).
I didn't have ground chicken, so I chopped 1 pound of chicken breast.

I served this with, cucumber, nectarine peaches, yougurt and lime pickles
Woderful, this made a great appetizer!
I prepared the wholegrain buns myself and baked them while I was baking the burgers on two different baking sheets.
Thanks a lot for this easy recipe.
Toss the chicken with the breadcrumbs, Tandoori paste, egg, lemon juice, lemon zest, salt & pepper and cumin (and hot sauce, if using). Shape the burgers into 6 patties and chill until ready to grill.
Preheat the grill to medium. Grill the burgers for 10 to 12 minutes on each side, or until cooked all the way through, and rotating the burgers 90 degrees halfway through cooking on each side.
Serve the burgers on buns and top with sliced cucumbers and peaches (or mango, and serve with the yogurt or creamy dressing.