Tandoor Style Green Beans for Two (Vegan)
Debbwl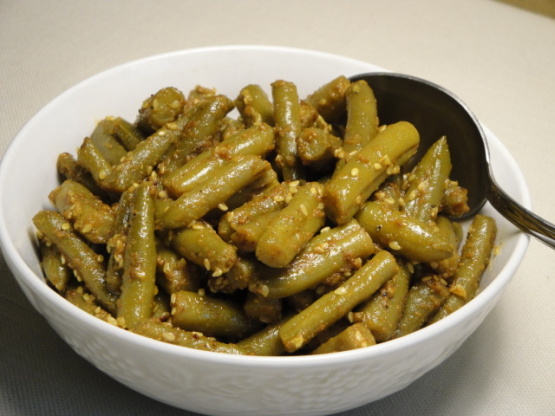 I love the spice section of my favorite Indian grocery store! And I had some canned cut greenbeans I picked up cheap; eliminates the steaming time. About 2 cups fresh will suffice if you want to go that route. The black sesame seeds make for a nice crunch and Indian flavor, plus the green and black look so nice together. Plus, the greenbeans don't taste canned this way!

Top Review by Debbwl
Loved all the spice in these tasty beans. And while I could not get black sesame seeds the regular white ones added a nice crunch and flavor. Made as written with the exception of the color of the sesame seeds. Will defiantly be making again. Thanks so much for the post.
In a small bowl mix the oil with the spices and black sesame seeds.
Put the green beans in a tossing bowl with the oil/spice mixture and toss well to coat.
Let it sit for about 10-15 minutes for the flavors to absorb.
Pour the contents of the bowl into a large skillet or frying pan and on medium-high heat, move the greenbeans around with a spatula until fully cooked but not shrunken.
Makes about two 1-cup servings and doubling/tripling works just dandy if cooking for more people.