Tamale Pie for Two (Ww Core)
PaulaG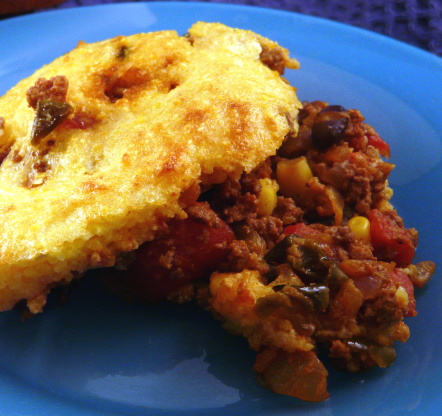 I love tamale pie but as a solo chef rarely make it. Found this recipe to be the perfect solution and it will easily double for larger families. The tamale topping on this is light and fluffy and complements the hearty beef filling underneath.

Really excellent!! We used taco seasoning to give it flavor (it is bland without something extra). I tripled the recipe so we could have leftovers, but there were none!
Pre-heat oven to 350 degrees.
In a non stick skillet, brown the ground beef and break it apart using a spoon. Add the onions and green peppers and garlic. Once the meat is cooked, drain off any excess fat. Alternately, transfer the contents of the pan to a plate lined with two paper towels, wipe skillet and return beef to pan.
After draining excess fat using either method, add the tomatoes, corn, chili powder and 1/2 tablespoon of cornmeal. Bring the mixture to a simmer. Transfer to a one quart casserole.
Place the milk, cornmeal and salt in a small saucepan and bring to a light boil. Reduce to a simmer and stir frequently until thickened. Alternately, you can cook the ingredients in a microwave and cook for 2 and 1/2 minutes, stirring every 30 seconds.
In a small bowl beat the egg whites by hand until foamy. Slowly add in the cornmeal, stirring to make sure it does not scramble the egg. Add the soy cheese/cheese if using.
Top the casserole filling with the cornmeal mush.
Bake for 25 to 30 minutes the top should be puffed and lightly browned.