Stove Top Tamale Pie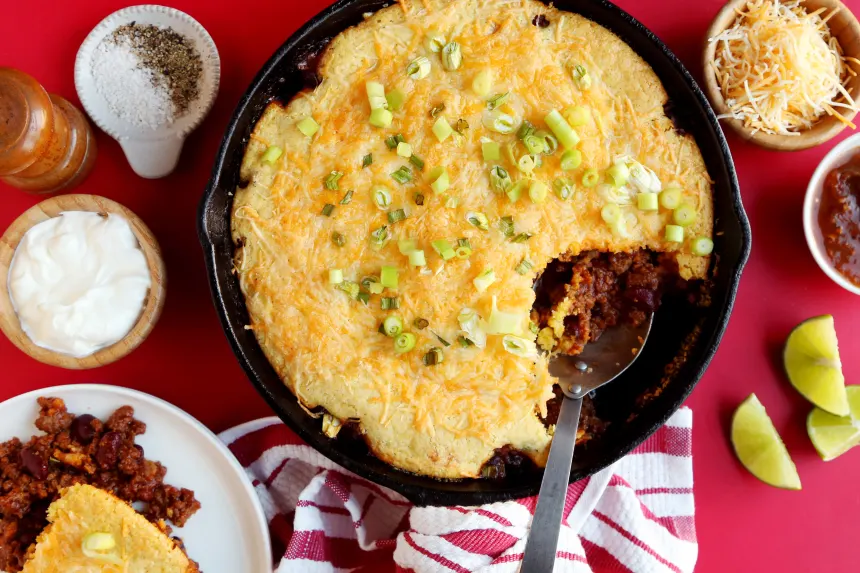 photo by Jonathan Melendez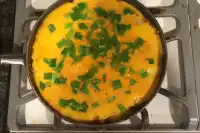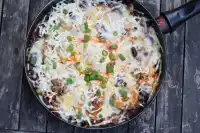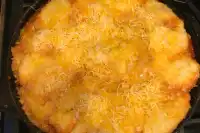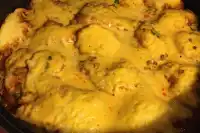 Ready In:

40mins

Ingredients:

8
directions
In a large skillet, brown ground beef over medium-high heat; drain.
Stir in tomato sauce, beans, water and taco seasoning mix. Bring to a boil; reduce heat, cover and simmer 5 minutes.
Prepare corn muffin mix according to package directions. Drop small spoonfuls of muffin batter over meat mixture in a skillet.
Cover and cook over medium-low heat 15-17 minutes or until corn bread is done.
Top with cheese and green onion. Cover and cook over low heat until cheese melts.
Reviews
This was WONDERFUL!!! & was super easy too! <br/><br/>This is such an versitile recipe & is easily adaptable to whatever ingredients you have on hand. I added diced green chilies & chopped onion to the ground beef as it browned. I substituted a can of Hot Chili beans in place of thre kidney beans & used a pkgt of chili seasoning instead of taco seasoning as I wanted to use it up. <br/>Could also add some whole kernal corn. Topped the cooked cornbread with a half can of sliced black olives then the shredded cheese (use whatever you like....Mexican blend, sharp, etc.) <br/>Oh, I omitted the green onions...OK, I forgot them :-}but my DH LOVED it & this's what counts!!!! He said to put a star by this recipe! How about I just put 5 STARS instead?!!! <br/><br/>This is going to be a regular at our house now & a very pleasant addition to our menus after 41 yrs of marriage. Thanks Fluffy!!!!!<br/><br/><br/><br/>Read more: http://www.food.com/recipe/stove-top-tamale-pie-78897#ixzz1WcY7O2fl

 

another 5 star recipe to put into regular rotation. since my oven is old and temperamental and completely unreliable i was THRILLED to find a stovetop tamale pie recipe. i took your recipe as a base and made some changes specific to our taste (we like a lot of heat and spice) and to use what i had on hand... so...i sauteed 2 small onions and 3 minced cloves garlic with the ground beef, then added a few dried chili pepper flakes and 4 small jarred jalepeno peppers (diced - seeds and all)). my tomato sauce comes in a 500g carton so i just used the whole thing and compensated by draining the beans (i used pinto) and reducing the water to 1/4 cup. also threw in a (drained) can of corn, about 1 Tbsp of chili powder and 1 tsp of cumin (along with hot & spicy taco seasoning). I used recipe #264541 for the corn bread mix (which was easy and excellent) and reduced the cheese to just a sprinkle of gouda (would have been fine without). i didn't have any green onions so went without. I ended up cooking it for about 10 minutes longer than advised (but that was likely because of my substitutions). I served it with sour cream. the result? WOW. the heat and spice and flavor of the meat mixture was perfectly balanced by the sweetness of the cornbread and the texture was bang on - not at all too dry and not soupy at all. we both ate 2 helpings and then sat and complained how stuffed we were. and then cut ourselves each another tiny sliver. and then complained how REALLY stuffed we were. and then cut ourselves ANOTHER tiny sliver. (and then fished out all the random beef and corn tidbits that remained on the 'empty' side of the dish). it was just too good to stop. now im sad that we overindulged and there wont be enough for dinner again tomorrow. super easy. super fast. super inexpensive. super delicious. super quick clean up. thank you so much.

 
Tweaks
This was awesome. Hubby said it was definitely one of the top 10 dishes I have ever made. I saut?ed half an onion with the beef which was a perfect addition I used the Jiffy Corn Muffin copycat recipe and a taco seasoning recipe from this site (that way there are no hidden chemicals/MSG). I increased tomato sauce to a 15 oz can, used seasoned chili beans instead of kidneys, and added a can of drained corn kernels. Topped it off with a Mexican blend cheese and the green onions and served it with sour cream Outstanding! I could definitely see adding a jalapeno or topping it with sliced olives if you like heat and/or salt. Really easy (and easy on the wallet!). Thanks for the great recipe!