Tall and Fluffy Buttermilk Biscuits
gailanng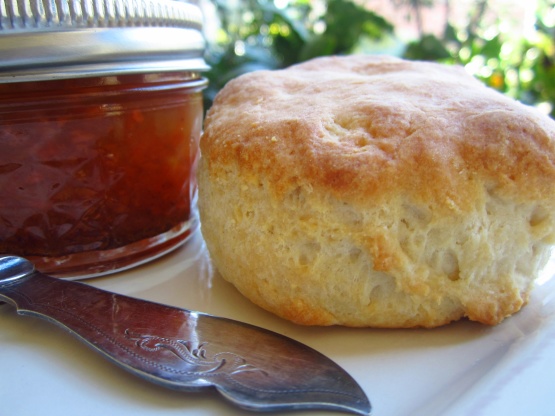 This is a modified recipe from the "American Test Kitchen" but is very close. If you like a nice tall biscuit and are tired of the Hydrogenated Canned biscuits then this is for you.

A tedious recipe that seems to over complicate things. The dough turns out like runny pancake batter, then tells you to roll it in a pan of flour. It was impossible to roll, it was simply sticky goo. I ended up adding the panned flour that I was supposed to roll the dough in, and just added it to the dough. It was still very sticky and took me three times the work of a regular biscuit recipe. Not to mention no bake time is included. One person stated it took hers roily 12-14 minutes. Mine took 22 minutes. I will not use this recipe again.
Preheat oven to 425 degrees.
In a food processor process all dry ingredients.
Add 4 tbs butter cubed and process for 10ea 1 second pulses.
Place mix in a mixing bowl and stir in Buttermilk.
Spray a 9" metal cake pan with non-stick spray.
Spray 1/3 measuring cup with non-stick spray and use it to scoop out biscuit dough from mixing bowl.
Place the dough in a shallow pan with the 1 cup flour and roll into balls and place into cake pan. do this until you get 8-9 dough balls.
Brush with 2 TBS melted butter and bake until golden brown.