Peter J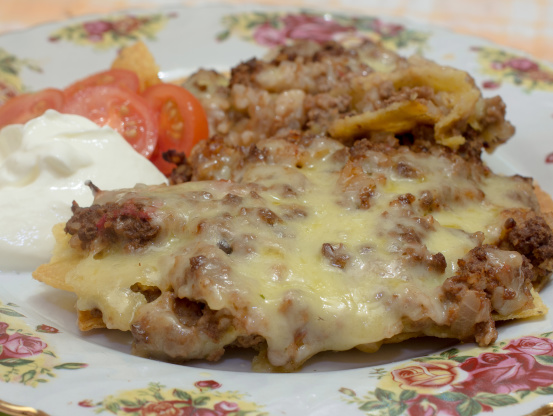 Easy Once A Month Cooking dish that can be made in smaller batches for snacks as well as large batches for meals. This recipe is for 4 seperate meals. Can use it as a burrito filling, for nachos, or on a salad.

Delicious! I made using recipe#199955 for the taco seasoning and made half the recipe and divided up fours ways as a generous meal for two. Only change I made was that I'd absorption cooked the rice and used tomatoes that didn't have a real lot of juice so also added a cup of beef stock because it started out fairly thick and that turned out perfectly after the 30 minutes of simmering.
Containers: 4 Gallon sized freezer bags.
Assembly Directions:.
Brown meat and drain.
Combine meat, onion, taco seasoning packets, cooked rice and tomatoes in saucepan.
Simmer until thick- about 30 minutes.
Freezing and Cooking Directions:.
Cool, label, and freeze in gallon sized freezer bags.
Also freeze a ziptop bag with 2 cups of shreaded cheese for each meal.
To serve:.
Thaw completely.
Preheat oven to 350 degrees.
Place in a casserole dish and bake until heated through about 30-35 minutes.
Top with shredded cheese and bake about 5 minutes longer.