Jostlori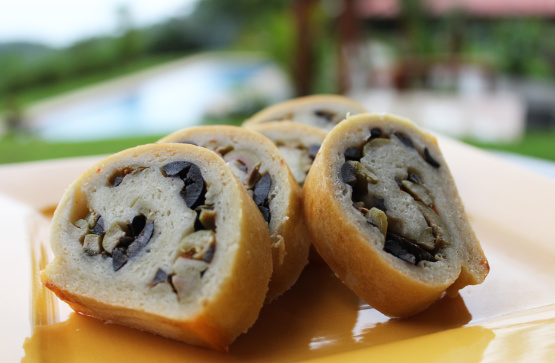 Resembling olive-filled spiral biscuits, these olive pastries make a great salty snack to serve with drinks

This is a delicious treat! All of the flavors come together beautifully and every single ingredient shines! I especially loved the dough - it is so easy to work with and to roll out. The orange juice should be fresh squeezed to maximize the taste. Oh, and fresh, garden-grown oregano! I made this the day before, but didn't have time to let it cool before cutting. I wrapped in parchment and foil, and it's no worse for wear. It is moist and delicious, looks great on the plate. Although it would be great with dinner, I think this makes a great addition to an appetizer table. It is so unique and so gooooood! Finally, this is a great recipe because my mind keeps racing to think of other things to roll up in addition to or instead of the olives. Hmmmmm; garlic, basil, raisins, pine nuts. Not all together, but just to change things up now and then. The possibilities are endless! Thanks so much for posting this keeper of a recipe!
Olive Oil Pastry.
Combine flour, baking powder and salt in a large bowl and make a well in the centre. Pour oil and orange juice into the well, then mix to form a smooth, satiny dough. Cover dough with plastic wrap and leave to rest for 30 minutes while preparing the filling. Preheat the oven to 180°C.
For the olive filling.
Combine all the filling ingredients in a bowl and mix well, then divide in half.
For the egg-yolk glaze.
Divide the rested dough into 2 equal portions then roll out each portion into a rectangle measuring 20cm x 24cm. Scatter each rectangle with half of the olive mixture to evenly cover pastry. Roll up to form a log. Transfer the logs to a baking tray pre-lined with non-stick baking paper and lightly brush each roll with the egg-yolk glaze. Bake for 35-40 minutes or until golden brown. Remove to wire rack to cool. Once cold, slice into 1cm-thick rounds and serve. Makes 36.