Swiss Onion Cake (Zwiebelkuchen)
diner524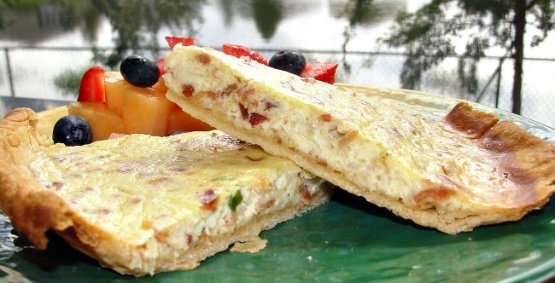 This makes a delightful appetizer or accompaniment to any meal.
Just loved this tart!! I must admit that I cheated and used a pre-made refrigerated pie crust and baked it in a pan that was larger then the 8" pan, so it wasn't as thick as it should have been. The only other change I made was to add a bit of Swiss/Gruyere cheese, as I have a ton of it left from this region of the Quest. Will definitely make this again. Thanks for sharing the recipe.
Sift dry dough ingredients into bowl; cut in butter. Add milk, a tablespoon at a time, tossing just until flour is dampened. Gather into ball. Pat 2/3 of dough in bottom of 8-inch round cake pan. Bake at 425 degrees until lightly browned, about 15 minutes. Cool on rack and turn oven down to 325 degrees.
Meanwhile, fry bacon until crisp; drain most of bacon fat. Cook onion in remaining bacon fat until tender. Combine remaining filling ingredients with bacon and onion.
Pat remaining dough around edge of cooled pan. Pour filling into crust. Bake at 325 degrees until almost set, about 20 minutes. Let stand 10 minutes. Cut into wedges and serve.