Parsley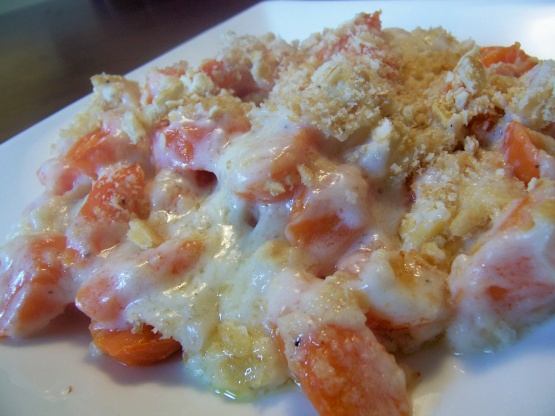 A quick make ahead dish good for buffets or potlucks. Another favorite of mine from the Benjamin Franklin award winning cookbook of midwestern U.S. origin called "Hollyhocks and Radishes."

I wish I could give this a better review, but we just didn't like it. I made it for (cdn) Thanksgiving. It seemed to need more flavour and less carrots, maybe it would be better with a few different vegetables.
Cook carrots in lightly salted water until just tender, about 10 minutes, and drain.
Melt butter in medium saucepan, add onion and saute until soft. Stir in flour with whisk and cook 1 minute. Whisk in seasonings and milk, cooking until thickened.
In a buttered, shallow 2 quart casserole, place half of carrots, all of the cheese then rest of carrots. Pour sauce over all and sprinkle with bread crumbs. Bake uncovered 25 minutes.