Chipfo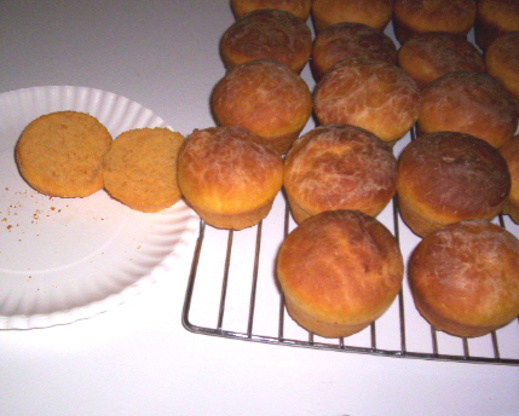 This makes a slightly sweet dinner roll with a little texture and color, I love them, you can't really taste sweet potatoes but people will ponder on how they were made, perfect for Thanksgiving or Christmas. This recipe is not beginner friendly, the amount of flour to use will greatly depend on the size of the potato and how soft you let it cook, I use a pretty big sweet potato and I let it cook until pretty soft so it will blend in better so I use just about all of the flour recommended.

We were given a gift of a huge box of sweet potatoes by a friend of mine who lives on a kibbutz, and I've been making sweet potato everything, soup, mash, even cottage pie. Last night we tried these rolls, although the kids insist they are muffins. I like the fact that the recipe uses yeast. The only change I made was to use soy milk so these wouldn't be dairy. I made these in my slightly-large silicon muffin cups, so I got only 16 rolls (muffins) out of the batch. I served these up last night with some Recipe #15580 and an Israeli salad drizzled with tehina. A very colorful and delicious meal! Thanks for the recipe, I will be making this often!
Peel potato and dice into a sauce pan, add enough water to cover and cook until tender, drain reserving 1/4 cup of the potato water.
Cool the potato water to lukewarm and dissolve yeast in it.
Mash potato and beat in salt, sugar and butter vigorously.
Heat milk until a film shines on top, skim and add to potato mixture. When the right temperature has been reached whisk in the dissolved yeast.
Stir in flour 1 cup at a time until kneading consistency is reached, lift onto a floured board and knead until smooth and elastic, adding flour as necessary. Place in a greased bowl and cover with a tea towel, let rise in a warm place until doubled in size.
Punch down dough, pinch off pieces slightly larger than a golf ball and place in greased muffin pan, let rise until doubled.
Bake in a preheated oven at 425°F for 13 to 15 minutes or until done (ovens vary), remove to a wire rack to cool.