yokeyeow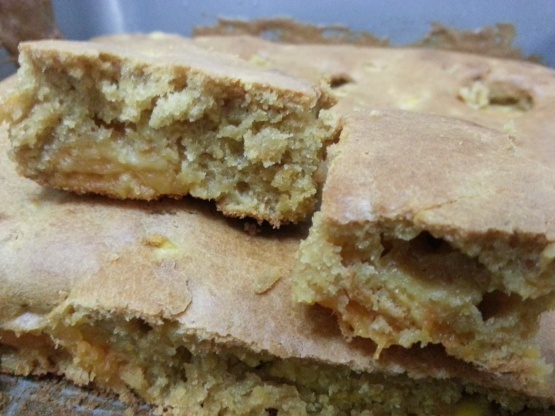 I see no reason to make regular cornbread ever again--not when I can have this. The house smells heavenly, and this goes great with my chili. Recipe courtesy of The Best of Country Cooking 2010 and Judy Roland of Mount Holly, North Carolina.

I love sweet potatoes as well as corn bread, so this recipe was was like a beacon vying for my attention! Easy to make & so full of flavor! Thanks for sharing it! [Made & reviewed in New Kids on the Block recipe tag]
In a large bowl, combine the flour, cornmeal, sugar, baking powder, and salt.
In a small bowl, combine the eggs, milk, oil, and sweet potatoes.
Stir in the dry ingredients just until moistened.
Pour into a greased 13x9x2" baking pan.
Bake at 425 for 30 to 35 minutes or until a toothpick inserted near center comes out clean.
Cut into squares.
Serve warm.