Katzen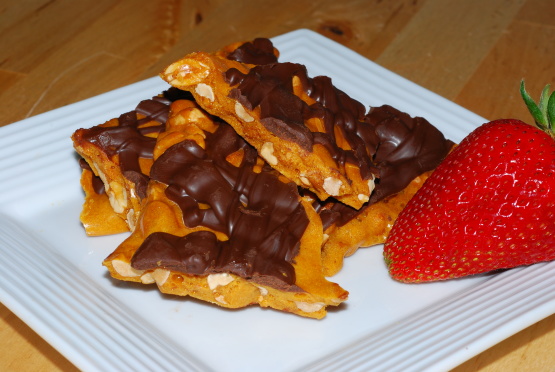 To make HOT-sweet brittle, stir in 1 t. hot pepper sauce into candy along with vanilla. All this is done in the microwave. Wonderful, wonderful!!

Top Review by Katzen
This is a super easy recipe, and very good! I would definately make this for gifts, with different types of chocolate drizzled top, and even chopped nuts, cocoa, powdered sugar (you get the idea), on top of the chocolate. In the town where I learned to scuba dive (Tobermory, Ontario, Canada), there is a store called the Sweet Shop, where I met my DH. They are well known for their brittle, and this recipe will allow me to make some of their concoctions, such as cashew brittle, almond brittle, pecan brittle, and "Big Tub Brittle", which has peanuts and popcorn in it. They've clearly missed the boat by not adding the chocolate on top! Seriously, this is an awesome recipe that takes no time at all to make! I do have two important tips when making it - ensure your microwaveable bowl is at least six cups in size, preferably eight, and when stirring, use something heat resistant such as stainless steel. Oh, and instead of dipping the brittle in the chocolate, I drizzled it on, which looks great! Thanks, CoffeeB, for a great recipe! Made for PRMR Tag.
Spray a large baking sheet or a 10x15 inch baking pan with cooking spray.
Set aside.
Mix sugar and corn syrup in large microwaveable bowl until moistened.
Microwave on high 5 minutes (caution, candy mixture gets very HOT).
Stir in butter and peanuts.
Microwave an additional 3-4 minutes or until pale golden brown.
Add baking soda and vanilla (mixture will foam).
Immediately spread mixture as thinly as possible onto prepared baking sheet.
Cool completely.
Break into pieces.
Microwave chocolate in 1 cup glass measuring cup on high 1-2 minutes.
Stir until chocolate is completely melted.
Stir in peanut butter until melted.
dip half of peanut brittle pieces halfway into chocolate mixture, scraping back brittle against edge of cup to remove excess chocolate.
Place on sheet of parchment paper.
Refrigerate until chocolate is set, about 20 minutes.