Sweet N Spicy Stuffed Pork Chops
Kelley52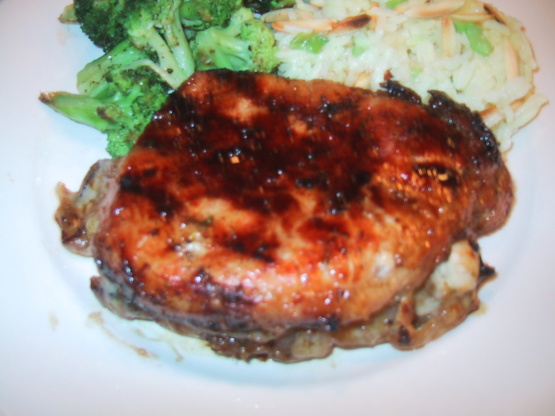 This is the first dish I ever mad for my DH when we were married. It is still the one he asks for the most! Thick cut pork chops stuffed with cheese and tomatoes and rubbed with tons of sugar and spice. I sometimes substitute fresh spinach or mushrooms for the tomato (or use a combination). I have also used the same recipe for stuffing and grilling pork tenderloins. I finish the tenderloin in the oven. Prep time doesn't include 2 hours optional marinade time.

We thought the rub was outstanding! I followed the recipe exactly using 2 TBS of the jerk seasoning, but omited the cinnamon because of DH. We agreed that the cheese stuffing didn't need to be there. We will just use thick pork chops next time with this rub on them. Served the chops with cocnut rice & broccoli. Thank you for a great rub recipe!
In a small bowl, combine jerk seasoning (you can vary the amount based on how spicy you like your food and how thick of a "crust" you want on your pork chop), cinnamon, garlic powder, salt, pepper, red pepper, soy, vinegar and oil.
Rub inside pocket of each chop with a small amount of this mixture. Rub outsides of chops with mixture generously. At this point you can continue with the recipe or refrigerate for a couple of hours to allow flavors to permeate the chops. I leave them uncovered in the fridge so the crust will dry out a bit.
Preheat grill for high and direct heat (we love charcoal and will sometimes add soaked applewood chips for more flavor). Allow chops to come back to room temperature if you refrigerated them. Rub inside of chop lightly with some brown sugar and more heavily crust the outside with brown sugar.
Open chops and grill for 2-3 minutes (cooking the INSIDE pocket of the chop) Remove from grill and stuff each with 2 slices of cheese and 2-3 slices of tomato. Secure chop closed with toothpicks or skewers that have been soaked in water.
Grill each side of pork chop for an additional 3-4 minutes depending on thickness of chop and how well you like your chops done. You may pat a bit more brown sugar on as you flip to give even more of a glaze to the chop.
Allow chop to stand for a couple of minutes once done grilling as they will continue to cook and redistribute juices.