teresas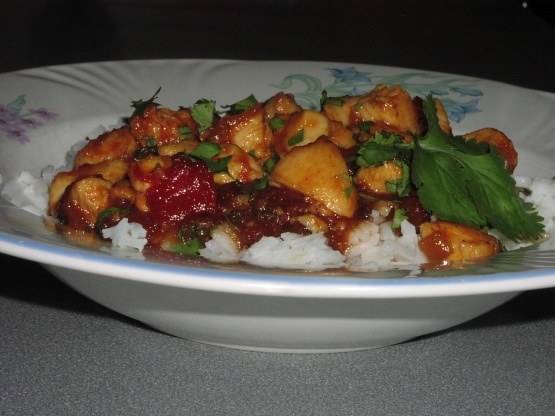 Although this recipe comes from Taste of Home Best Ever Chicken Cookbook 2009, I made a minor change or two!

What delicious and unusual flavors. The sweetness really works with the spiciness in this dish. I did break down and used a mild salsa, against my will because I really like hot foods. So instead I had half a jalapeno left from another recipe so diced it up and threw it in. Just added enough heat to make me happy. I do think too much would take away from the overall flavor. Because it had so much Mexican flavor I topped it off with a sprinkling of cilantro. I could see adding in some chopped green of red peppers and maybe chunks of onion. Excellent! Thanks for posting. :)
Place taco seasoning in a large resealable plastic bag along with the cubes of chicken, tossing to coat!
Heat oil in a large skillet & brown chicken until no longer pink, about 12-15 minutes.
Combine salsa & preserves & stir the mixture into the skillet with the chicken.
Bring to a boil, then reduce heat, cover & simmer 2-3 minutes or until heated through.
Serve with rice.