twissis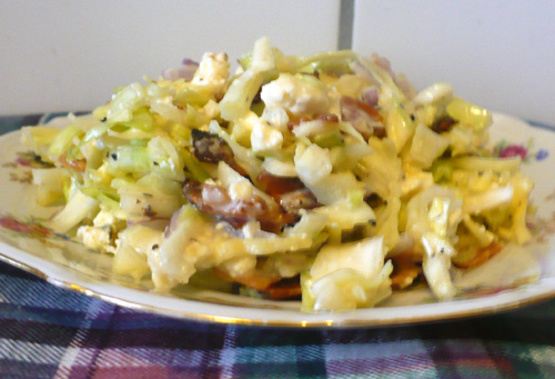 This is an old recipe from a family friend. She passed on years ago but her recipe lives on. It is very simple and tastes great.

I like to made the recipe once as written, the way the chef did it. Absolutely Delicious.. Couldn't have been happier with the way it turned out.. Yes I made a few alterations,<br/>I can't leave anything alone! I have to play with my food. THANK YOU!! I did adjusted to my personal taste. Your way is very delicious. The next time I did it I add: To My Note:<br/>3 ounces bacon bits<br/>3 green onions, thinly sliced<br/>ripe Tomato (to garnish)<br/>My family loved bouth ways, and I'll be making this a lot more. Both are delicious, it's a matter of what your taste is.....I've will added this to my recipe book with my additions. I now have two ways to this. YOU HAVE SUCCESS!!.....Thank you!!! Happy Cooking to you and you-all! Grpa
Combine ingredients in mixing bowl.
Stir sauce into shredded cabbage right before serving.