Sweet and Sour Vegetables With Tofu
Cynna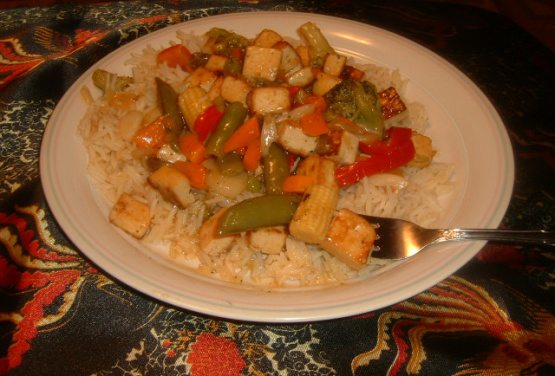 This is good. Serve with ramen noodles or over brown rice. Either fry the tofu yourself or buy pre-fried tofu.

I baked the tofu instead of frying it - great flavors! The sauce has a really good balance to it. Could easily put your own favorite veggies in.
Heat the oil in a skillet. Add the garlic and ginger and cook for 30 seconds.
Add the baby corn, snow peas, carrot and bell pepper and stir-fry for abut 5 minutes, until the vegetables are tender.
Add the scallions, bamboo shoots and tofu. Cook for 2 more minutes.
In a small bowl, stir together the sherry, vinegar, honey, soy sauce, vegetable stock and corn starch. Add to the hot pan. Bring to a boil. Reduce heat and simmer for 2 minutes. Serve immediately.