Nimz1466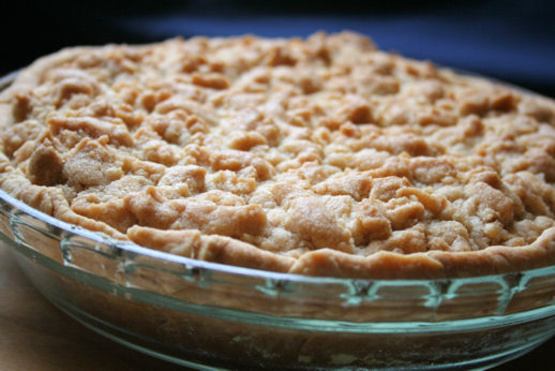 This is a delicious Apple Cream Pie, unlike I have ever tasted before. Tired of the same old Apple Pie? This one is for you! Hope you enjoy!

Made it exactly as the recipe. The dough part was to salty. When I cooked it at the exact time, right to the bubbles for 16 minute the crust was very dry and still salty. The filling however was good. I gave three stars for the filling, but the crust is horrible, unless you like salt. It tasted more like a pizza dough to me. :(
Boil apples just until beginning to soften; drain well.
Preheat oven to 350°F.
Mix drained apples, flour, sugar and salt Beat eggs and vanilla together and add to apple mixture.
Fold in sour cream.
Pour into pie shell and bake approx.40 minutes or until set.
While pie is baking, prepare topping as follows:.
Combine sugar, flour, ground cinnamon and softened butter until mixture resembles coarse crumbs.
Remove pie from oven and sprinkle on topping.
Bake for an additional 15 minutes.
Cool.